Today we have John H. Carroll, author of Rojuun.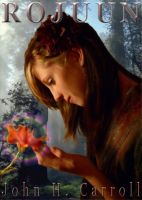 Some people write for a paycheck, while others do it for the love of the craft or to fulfill a promise to a loved one. Can you tell me what drives you to get up and write?

I love writing. I really, really love writing. When I was a kid, I would spend days wandering around in the desert where I grew up just imagining different worlds. I've never grown out of it. When I became an adult, I realized that I could make a living writing it down. Now that I'm 40, I actually have the discipline to do so. Writing could be called daydreaming on paper. As far as the paycheck part, I'm desperately hoping that I can get that too. (laugh)
What is the first book that you can remember having a true impact on you?

The first book? There have been a lot of books that had true impact. *thinking* Ahh yes. "Where the Wild Things Are". I hate that they made a terrible movie about it and that it suddenly became everyone's favorite childhood book.
I feel like it should be mine as it was always a personal, secret thing for me. My sister used to read me that story and I would stare at the pictures for hours. It was an excellent story for anyone who liked to use their imagination.
What is one quirky thing about yourself… something that no one outside of your friends and family might know?

Only one? (laugh) I like emo bunnies. We got together one day and took over the world, but it made us sad so we gave it back. It was a secret of course, that's why no one knows about it.
What is your current project about?

I just finished the first draft of my second book "Anilyia". At the moment I'm doing what I call a 'focused edit' where I try to get the missing words, homonyms like "their/there/they're" and duplicate statements where I repeat something I said in an earlier paragraph or chapter. Then it will go on to friends for further editing.
Once done with that edit, I'm writing the third book in the series "Kethril". It's a series about a group of four adventures who are each a bit more than human. In the first book they find out more about a new race called "Rojuun". In the second, they rescue a princess. In the third, they try to figure out what to do with the princess. Princesses are difficult individuals after all.
Honestly, My books are about the characters. They aren't normal people and listening to them talk to each other is an adventure in itself.
How did the plot and overall story for that project come into being?

I proceeded with this story differently than I have in the past. Before, I would always outline a story then try to write it. The problem is that I became easily bored and set it aside. My success finally came when I stopped planning things and just wrote. Even on the third book I still don't know how it's going to go. I know where they're going next, but not what's going to happen. My books are now at a point that every new occurance is just as much an adventure for me as it is for the reader.
Do you have any other projects on the burner somewhere (that you can talk about)?

I have two projects, though they won't be worked on for a couple of years. The first is called "Pelya", about an orphan in a city of heavy magic. It's a book I started writing years ago, but never finished. It's set in the same world as my current books, but needs to be re-written.
The second project is a series of science fiction books. I have about 100 books conceived of in that one, but it's going to take a bit to write that much. (laugh)
Other than that, I plan on writing the occasional short story. Those are a little more difficult for me to write, but they can be fun.
Quick!… without thinking, what are the first five words that come to mind?

umm, emo, mabibble, egads, and sigh
What do you think those five words say about your personality?
That I'm slightly touched in the head? (laugh) I don't know, really. I tend to get weird under pressure . . . or even when not under pressure.
Do you have any pets? Can you tell us about them?

My personal pet is 'Emo' a rabbit. She's a big lop eared bunny and lives in a palace. She acts like a princess too. My wife has two dogs, Molly and polly. My kids have two cats, Rosie and Missy, who I like to call 'Fetish'. We have two goldfish too; Zombie Bob and Beetlejuice.
Hmmm.. I'm seeing "Emo" as a theme here. (laugh) Okay, before I let you go, I have one more question. If the world were to one day have your name as a household name (aside from your writing career) what would you want to be known for?
Interesting question *thinking* I don't really want fame aside from writing, but if I had to be a household name, I'd want it to be for something like rushing into a burning plane and rescuing all the passengers single-handedly.
I think that wraps it up.

Thank you for inviting me to do this interview.